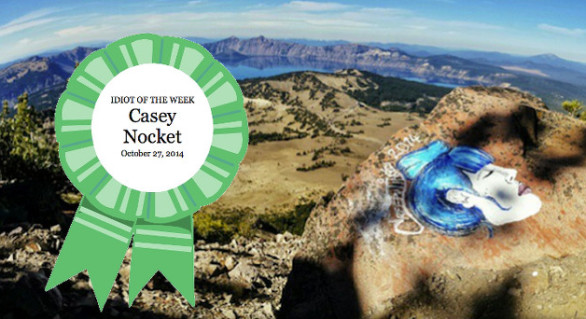 Looks like we had another tie this week, but as our half-baked rules say there is only one idiot that gets the soon-to-be-coveted as soon as it is designed downloadable official ATI Idiot of the Week Certificate. So, with a flip of the Decisionator, we have our winner: Casey Nocket — Banksy Wannabe!
Casey had been on a vandalism spree through the United States' most famous national parks, leaving behind her mark in the form of cartoonish art made with permanent marker and acrylic paint. If that wasn't idiotic enough, she then signed them with her Instagram name and took pictures of them along with getting pictures of herself making them and posted those pics online. Hey, we get it, you thought you were doing some great self-promotion, but there is this thing called the law. The law does appreciate the help in finding out who scrawled on nature's beauty. Graffiti in cities? Sure, it's against the law, too, but at least some of it actually does pretty things up a bit and you're sticking to manmade canvases. We're long beyond the days of needing to paint on rock walls to get noticed.
Casey was up against just two others this time. Below is a reminder of who and how many votes they got. Don't forget to come back this weekend to vote again! There are plenty of idiots out there just begging for a certificate.
The Candidates for October 27, 2014
Alvin Cross, Jr.: Cross was just looking to score a little weed from his dealer. The problem? He was too high on cocaine to realize he texted his probation officer by accident. Cue the sad trombone.
The City Government of Norcross, Georgia, USA: The city government sold a woman's condominium over a late tax bill. The bill was just $95, and there was evidence she wasn't receiving the notices they sent since the notices were being returned. Even then, no one thought to contact someone who otherwise regularly paid her bills until they sent someone to kick her and her four-year-old child out of their home. We're going to need a bigger dunce chair.