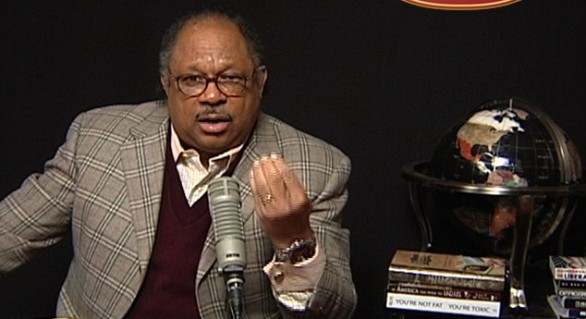 The votes are in and you have decided! The Idiot of the Week for the week beginning September 22, 2014 is:
Reverend James David Manning
This guy has a history of putting his Bible in his mouth, ranging from calling President Obama's mother "white trash" to saying the president should be hanged, but it's a special rant about homosexuals that brings him attention this time. He blathers on about the evils of homosexuality, how NASA's Voyager spacecraft proves everything has an opposite (male or female planets, we guess), and claims only death comes out of rectums and gay people have rectums filled with demons. We salute you, Reverend Manning, for taking fire and brimstone to a whole new level! An award suitable for printing and framing is in development. It should look nice on that altar next to that book you haven't read — the one with the long haired hippy guy who preaches love and tolerance.
Here's a reminder of who the Not-Right Reverend was up against this week:
The Candidates for September 22, 2014
Dion Davis: Sometimes the late shift can really get to you, especially if you're a burglar. Maybe a quick lie down and a short snooze can help — except for this guy.
Wei Chu: When you just have to have the latest and greatest iPhone 6, it's time to get busy and start earning cash. Mr. Chu decided renting out his girlfriend to earn that case is a good idea. In some countries, that might be called prostitution.
Rev. James David Manning: It's good to finally see religion and science coming together. Except we're not quite sure how the NASA Voyager probe, homosexuals, and demonic rectums really complement each other.
James Yeager and Dana McLendon: Special! Two idiots for one vote! McLendon's scientific look at what kind of women make good dating material and what kind are whore sluts from hell gets airtime on the Tactical Response video blog, because guns and women and stuff, we guess. They probably don't need more hits on the video, but we'll pay the price in case they might be winners.