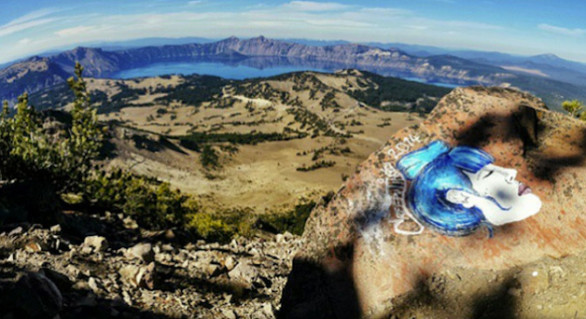 I like to keep up on the latest things in art, man. You never know when a new technique will inspire, so it's good to keep your eyes open. And so it happened I was looking for modern day graffiti styles and came across Casey Nocket. Casey is hiking across the United States, hitting a lot of famous places in national parks, and painting graffiti on the rocks. Man, that just isn't cool!
Now, I understand what it means to want to express yourself as well as get noticed, but she's just going too far. First, she has compared herself to Banksy, but Banksy works in urban environments. All those manmade bits and things are canvases just primed for some artwork, you know? Despite the constant battle between taggers and some graffiti artists just overwriting each other, some of those artists are one with the concrete and cement, man. You can tell they breathe the city element, and they channel that back out to vibrant color and line as well as thought provoking shade and statement. It's a beautiful thing.
Nature, though, is already beautiful. Mother Nature is the original, greatest artist, and she doesn't need Casey's help at all. We're far beyond cave and rock painting for communication and recording history. National parks are there to preserve, man. I think I'd be on board with her if she just used something less permanent and toxic. As it is, I have to say stop.
You can read more here, man, but you might not want to, because it'll make you sad. I'm going to have to go light up a bit of hemp, kick back, and meditate now to calm down before I can paint again.